The wonder of Kingley Vale and time-travelling Yew
I felt the tug of curiosity as soon as my friend told me: the largest Yew forest in the UK. "Perhaps in Europe", Daniel added.
"A grove with some of the oldest trees in the land – so wide you can't begin to hug them."
Daniel was also a 'local boy' – which accounted for his excitement, discovering the forest on the edge of the South Downs by chance. We had both grown up in the area. Our families still lived there. How come we had never heard of this place? Even my Father who'd lived in the Southampton-Portsmouth area all his 82-years, knew nothing about it. So we decided to head there together and see it for ourselves.
Kingley Vale National Nature Reserve: an hour from Brighton, two hours from London, is a hidden jewel in the densely populated South East. Tucked inland, the 400-acre park has a dreamy vantage over the Solent from
clearings and valley heights. Chichester cathedral's spire becomes a landmark, as well as the tankers anchored outside Southampton Water. Given its scale and uniquely old Yew trees, Kingley Vale has to be one of the country's best-kept secrets.
Leaving the urban sprawl of Portsmouth, the route winds through farmland, horse-riding territory, past pubs the hub of villages fit for heritage calendars; grey flint walls, some with large carriage wheels and geraniums spilling out of pots. Windows down, I gawped as a tourist at time arrested – at red telephone kiosks and post boxes embedded in cottage walls, somnolent clip-clopping hooves and chugging tractors, tweeded hikers clutching a thirst-quenching pint.
Dad and I headed up through beach forest from the car park, the soil soft with chalk and flint. Tall stately trees often make me feel watched. There is a charge that I sense – underfoot and all about me – ancient and alert to my trespassing presence. It's not about feeling unwelcome – more an interplay, however subtle, between the walker that I am and the land I walk on. A crow's throaty caw seems personal – a cry for my attention. I stop and look at it peering down from the treetops, and imagine it as guardian of unseen worlds threading through the land. That same sound would have been heard by ancestors from another age, dwelling where I now trudged.
Big tractor ruts force us to clear our own way through overgrown bramble, sapling and weed. The wood is waking up from a long winter. Fresh lime leaves peep from bud; many branches still bleak and bare but softening in the life springing up around them. Everywhere feels vibrant, emerging from dark wet months. Trees make me nostalgic, stirring memories of childhood and innocence. In synchronicity, a gabble of voices, whistles and laughter gets louder and we spin round to see who's behind us. A file of men and boys pant through the trees, overloaded with backpacks of camping gear and bags of food. Some boys charge ahead with sticks, helping scout a route. We are all heading in the same direction: eastwards, to the national park boundary.
As the beech wood thinned, an emerald swathe of soft curving hills enticed us from the other side of beige fields. We could march that way directly; no livestock or crop to stop us. Instead we headed to a criss-cross of bridleways – each trail with promise. Which way?
After indecision, we headed in the direction of the sea we could sense. Over a brow, a vast blue ribbon of Solent opened up. We know the water well as sailors, and it is like an old friend stretching across the horizon. A busy estuary, the Solent is rich in marine history. Further to our right – west – Southampton Water, from where the Titanic set off on its maiden voyage; Portsmouth nearby a naval hub. Lower down the deep-green canopy of Yew.
Ancient burial mounds, Tumuli, survey this contrast of blue and green – of light and uninterrupted sea breeze. No accident where the ancestors chose to settle and ultimately lie. History and life merge in these earthworks, this setting that seems so out of time.
There is a choice of paths to Kingley Vale's vaulted trees. We follow a sign to the Nature Trail, and drop a surprising height – the well produced track switching back through darkness. We paused and marvelled at the density of yew – their twisting stout trunks and thick shadows.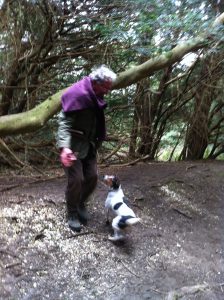 Yews are rich in Druidic mythology. Every graveyard has one. For earth-based spiritual practitioners, they are helpers for accessing the underworld – their deep feminine grooves and recesses inviting descent. The very cratered texture of yew bark is bewitching. Among the shadows of those buried and living ghosts, the yew bridges the afterlife – with its promise of magic, of transcendent medicine.
Many forests were cleared of yew in medieval times for cross bow. That is what makes them special – there are so few of them left.
As we step into the showcase circle of oldest yew, the atmosphere shifts. There is a hush. A quiet. It is time stopped. History sensed. The thick vaulted canopy, shrouded and enclosed, is an arboreal cathedral. There are friendly ghosts also assembled. A grove of stout gnarled yew commands such presence: I stand still and hold my breath.
 These yew stand as sentinels – older than the slow steady flow of human history of the last two millennia. They have outlived two world wars, famines, natural calamities – births, deaths, wars, inhuman horror and sublime kindness. They are older than twenty centuries showcasing the greatest and darkest humanity.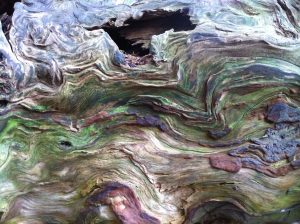 In the bark, ancient soul forms peer out, compressions of wisdom and authority. Close up, the barks have veins of colour – the grains churning like ocean currents. These too are ancestors: living through the persistent rush of life and time. The fine streaks of colour testify the countless seasons that have passed. The trees still stand.
Kingley Vale harbours the story of time: from bow and arrow; Neolithic man; the gouging of glaciers. The flinty soil is an echo of prehistory – stone as tangible origin – and further back still: leaves of captured sunlight, having travelled many thousands of light years to this world. The skies seem vaster outside the yew's enclosing canopy.
The Nature Trail twists up beyond the tree-line to the tumuli. Chichester looks compact from here, a small thriving city. The higher we get, the valley forms a perfect-U. Only four hundred years ago or so, these same undulations would be greened with trees. Long before the ancients were buried here, the ocean would have flooded these soils.
Nearing the top of the valley, we encounter a photographer sitting by his tripod. He's an enthusiast – not only here for the day – but for the motion of stars too. He explained a variety of lenses to capture the night sky. He asks if we'd seen the valley glow gold in brilliant sunshine…
"Five minutes ago – before these clouds thundered over. Maybe a secret the ancients knew."
We waited with him for the clouds to part – holding out for the light show he'd described. The wind wasn't obliging and brought more thick rolls of grey over the valley.
It was intimate pausing in silence together: stranger, father and daughter – peering through the channels of time and history….
Time stops in marvel; pulled to the living wonder in the present. There is a tension of mystery, when alert and expectant of reveal. And then the surprise, emerging again, separate from the unending here and now. Resources are fathomless once you stop to notice. It's like watching my mother smell the lilac, azalea and roses – her favourite flowers. Bent over the rose-beds – even with arthritis – she breathes in their rich timeless scent as if her life depends on it….
A valley of gold: Kingley Vale. Maybe the ancients knew it as that: Golden Valley. If the photographer saw it as such, why not? Nothing would surprise me as we pulled away from the view. Fresh and inspired, history felt alive in our veins as we headed back along the track to the car – with its promise of a local brew before the drive back home to supper.