Mexico, Building Works & the Serpent of Light
Mexico, Building Works & the Serpent of Light
When theme plays out in every area of life….
Closing my eyes to really settle, mind still, the roar of breaking waves rises first as memory. At once, I'm in Mexico, on the beach in Tulum facing east towards the Caribbean Sea. It's windy season and the surf pounds the shore night and day, rhythmic as drumbeat.
The colours wash over the soundscape next: a gritty churn of sand and seaweed; a white beach between shimmering turquoise seas and verdant greens of jungle. The skies then fill: crying seabirds, the faintest flap of wings as bulkier amphibious birds fly low; long-necked pelicans gliding over the shallows for fish. I can turn up the volume on the whoosh I imagine they make, as they propel forwards so improbably. Their manifest grace is surprising.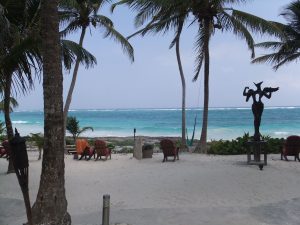 I like journeying down through the sonic layers of memory – sediments of time. The low thrum of jungle beneath the waves. Its irrepressible vitality is like compressed static, charged and exciting. Even the silent world of plants emits a presence that becomes music with perspective. These sounds and sights are a sub-layer, whipped up by the predominant ocean crash. They enable me to relive moments I experienced – or invent encounters that seem as real as if they happened. Ghosts who once thronged that ancient coastline, now stalk among shadows or take their place at the beach beneath the ruins from a time when Tulum was a mercantile hub.
Such vivid flashbacks of exotic sea fringed by jungle and thatched cabanas are my retreat – accessible without a plane ticket. They allow me to fade out the chaos of living on a building site. When the dust, rubble, drill and hammer get too much, I can turn up the dimmer switch on all nerve-straining impact and relish my chair-bound escape.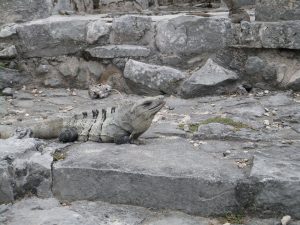 Back from Mexico barely three weeks and I have a sense of two lives co-existing.
In the here and now, I'm in the throes of exciting building work. My home is in chaos. A project to transform my basement into a creative space has entered the fifth month. It's been a fascinating mix of crude manpower (digging out more than a hundred tons of clay with spades mostly) and engineering science (steel beams and underpinning conforming to detailed equations; a membrane of swimming pool quality to stop damp). The worst part is over. I removed myself to Mexico for when the work would encroach my domestic space upstairs. The builders could work without apology: knock a hole in the floor for a staircase, remove walls, build walls, rip out plaster, relay pipes.
. 
I returned to dust: clouds of dust scuffing up from recently cleaned areas; every toss and turn in my bed shaking up dust trapped in sheets; books caked in thin dusty deposits. And disorder: boxes of paperwork, piles of bagged clothes, rearranged furniture and ornaments. Mottled patches of plaster. A hole in the hallway with no staircase to make sense of it. A home with a lot of potential that does not feel like home.
There has been a fault-line running through the foundations of my life for some time. Buying a home with a floor I knew nothing about is all part of that story. I bought this south-facing ground floor flat in Bristol a year ago. It was a surprise when I made the offer within a day of seeing it. My search for somewhere to settle was half-hearted. I hadn't fully made up my mind whether to return to Bristol after a break of six months or find somewhere within striking distance. Walking in, I loved it at once. The character of the building emanated a quiet presence, its gentle creak and purr. This was a space with its own dimension of life going on. "Home," I decided at once.
Outside, I noticed a blue door hidden beneath the ground floor, at the bottom of a steep and narrow brick staircase. It was mossed over and slippery, the iron railings chipped and loose. The estate agent dismissed my curiosity, after scanning her bunch of keys.
"Oh, the cellar – I don't have the key for it. To be honest there's nothing there. You can keep a bicycle inside – a bit of storage. Useful. But that's about it."
In the months following, I forgot all about the blue door…
On the day of completing contracts, I'm driving down the M4 to Bristol anticipating my first night in my new home. During this journey as solicitors finalize the contracts of sale, an email lands in my inbox offering a publishing contract. I read it on my phone as the estate agent hands over the keys and final paperwork. This is a long sweet moment: surprise and delight slowly catching up with the detail I scan. Finding a publisher for The Upside Down Mountain had been a sweat and I gave up many times. I'd started writing it in September 2012. Its manifestation seemed improbable and more often impossible. What synchronous timing: my new home lines up with a home for my book!
Stepping across the threshold, there is one key not accounted for. It must be for the cellar. I head outside and gingerly make my way down the stairs clutching the handrail. With a bit of jiggling, the door opens uncertainly. The hinge will need oiling.
Eyes adjusting, I look about: one decent sized room, with a carpenter's bench and old press. I scrabble for a light switch and walk in: there are recesses at the back opening up to two more spaces. I turn a dark corner to find another room adapted as an office. The cheap paneling to plug out the damp makes it look like a sauna.
In the coming days, I have a dream. I welcome my family to my new home. It morphs into a larger building, as one door opens to a hidden room. When we all step inside, the room expands into a large auditorium. In one corner, a chef in white with a starched upright hat puffed comically like a Yorkshire pudding is labouring over a pizza oven. The understanding is that I will have many guests and they will all need feeding.
Outside, I notice a maze of motorways and flyovers with traffic whizzing past. At once I'm at the centre of a large city – reminding me of west London near the M40 where I used to live. I have a doomed thought, "this space is for well-heeled corporate clients – how will I rise to this, and what am I going to tell them all?" There's no chance to wonder. I take my place at the front of the large modern room and…wake up.
This was a liberating dream – making me feel spacious and excited. Jung saw rooms as chambers of the self. My home had shape-shifted into a hub. It brought me people and was a place of travel, expansion and, importantly, inspired connection.
I couldn't shake off the itch of curiosity about the basement. Almost the same size of floor as my flat! It needed to be used. I could clean it out and use the study already there. But I wanted to make the space truly my own. The previous owner used to dream of converting it – and left me with architectural plans she'd had drawn up to convert it. We kept in touch – and every time we met she probed my intentions, "are you going to do it? It would look so wonderful – just imagine!"
I booked a stream of professional appointments: consultations with architects, builders, engineers, neighbours and estate agents. All agreed, it was ambitious. This area of Bristol was built on clay. The building had shallow foundations – typical of its Victorian construction. Excavation had to be done gradually – with underpinning of walls to ensure the three-story house wouldn't collapse. It was hard work. And expensive.
I weighed up the many off-putting practicalities against romance, of the basement as surprise gift. A whole untapped underground layer – waiting to be claimed! That captured my imagination: after all, I'd written a book about plunging into hidden psychic depths. As well as physical landscapes, the stories are as much about inner terrains and their underworld. Transforming the space was surely irresistible for all the time, effort, investment and upheaval…
The work started just before Xmas. The Upside Down Mountain was published a month later – nearly three-and-a-half years since beginning it. All at once, my life was moving forwards in very real ways. The bricks of my home were opening up at the same time. It had been a roll for many months: care-taking TUDM to print, two book launches, publicity, the dig-dig-dig from under my home. A team of men was labouring through rain-filled days with spades, heaping plastic baskets of clay onto a lorry that would shuttle to the nearest quarry, dozens of times.
Then, just as the pace slows a little, my body responds. I'm tired. The building work is about to erupt upstairs. A random google search shows up a 200 quid flight from Birmingham to Mexico's Caribbean coast – promising a burst of sun and rainless skies and aqua marine seas, jungle and bleached sands. And ruins. Land etched with stories of the Mayan civilization – the ancient masters of time, who one day abandoned their famed sites and temples, leaving no clues to why and what next.
As if more YES was needed, the dates qualifying for the cheapest direct flight I'd ever seen to Central America coincided with spring equinox. A time of year when night and day swing in equal balance. There would be ample time to relax by the sea and then travel inland to the famed jungle temple Chichen Itza.
Twice a year on both equinox days, the shadow of Kukulkan – the Mayan feathered serpent god – descends the north-facing staircase to the underworld. Seven perfect isosceles triangles – projected as shadows from the stairs of the pyramid lit by the setting sun – create a luminous contrast above them. This is the Serpent of Light.
I was there. I'd spent two days exploring, wandering round the temple site. It's a passion of mine to reconstruct life as it might have been. Layered on that, picturing the thrill of those who discovered protruding stone within the jungle's encroachment.
The day itself – 21st March – was very overcast. The sun was hidden, occasionally brightening thinner cloud. There were occasional gasps in the packed crowd as shadows came and went – the contrast on the pyramid unremarkable given the cloud cover.
Still, it doesn't take much imagination to feel marvel there. Chichen Itza is one of the wonders of our world. To this day, the site's main temple, El Castillo, arrests the boundaries of time, language and culture. The display of light and shadow is born from a mastery of maths, architecture, engineering and astronomy.
El Castillo pyramid a universal calendar and timepiece – aligned to the polarities of two worlds: above and below. Beholding the descending shadow as the sun sets – spellbound – is to step out of time. For this light show to happen, each layer of stone is angled precisely. As a whole they mirror the movement of the stars and earth's circuit around the sun. Light and gravity enable this celestial orchestra to express its music through movement – its own awakening harmony.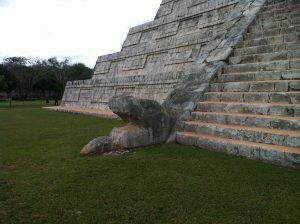 That is what I sensed captured on equinox at Chichen Itza. It felt like a kiss from the ancients connecting to us there through time and space. Find me one heart, one soul that wouldn't be opened by that!
During the sun's critical one-hour descent, there had only been the odd glimmer of the legendary light show. Many thousands assembled began to leave. It had been a carnival of sorts, a merry gathering of Mexicans and pilgrims, tourists. I also got up to leave and walked a few yards then stopped. No, it was a mark of respect to stay throughout the setting sun's descent, whatever I saw or didn't see.
Minutes later, someone shrieks. We all look up. The sun bursts through. The serpent lights up – long enough for us to hug the nearest stranger and clap with delight. The epic shadow is cast as suddenly and surprisingly as that.
Back in Bristol, thousands of miles away, many thousands of moments along time's arrow, the inspiration of equinox is a living seed. It can spark the same wonder in a thought. Time and distance collapse once more. Come rain or shine, dust, rubble, and clatter, I can choose to relive my experience at Chichen Itza.
Now, after a week feeling uprooted, unrested and scattered, I'm on the 'homeward' stretch. This stage of transformation is more fun. The ground floor is white-washed. There is space, more than I foresaw. Light now floods new open areas, and I'm starting to dream of shades and touches. Ideas and dates for workshops and creative gatherings in the basement studio are springing up – for which the project was always to inspire.
As my physical space continues to open up, so I experience my own opening. The excavation, dismantling and throwing out are part of a bigger life clearance; a stripping away as new foundations are laid mindfully. Routine and self-maintenance (to use functional parlance) are life structures also being reorganized: how best to manage my mercurial, creative temperament and be productive, as well as enjoy the urban pleasures that make Bristol a first-class place to live? What is the balance of discipline and play; how to relish friends and community, without sabotaging dreams and commitments, which need loving attention and time?
No answer. Only a discovery through experience: weathering imbalance and resolving to make changes accordingly.
Building work – for all its nerve-shattering density – is opening up recesses within time. The drill and hammer, or hurried toilet visit in a door-less bathroom is all part of life's twisting dance of mundane and epic.
Excavation – from building, piercing the layers of time and mind – is foundation laying in every sense. This is my canvas of descent, the experience of who I am and all my becoming.